Getting ready to race...

Attention Coaches: Click here

for more info
CHECK IN:
Go to the Registration Desk near front doors upon arrival.
If you are under age 18, complete waiver at desk or download waiver here and bring it with you.
Pick up your Race Card(s) and check your Lane assignment.and time of your race.
If you are rowing in a lightweight or coxswain category - go to the Weigh-in Station, step on weigh scales and get stamped. The Weigh-in Station will be open from 7:30 a.m. to 12:30 a.m.
WARM UP:
Stretch and warm up prior to racing on the Model D Concept 2 warm up ergs in back half of the arena.
7-10 minutes prior to your race you will be called to stand behind your assigned lane. When your lane is free, you may sit on the erg and continue your warm-up.
Hand in your Race Card to the lane official and listen to any instructions from the starter or lane officials. You are allowed to adjust the damper setting on the flywheel if you like but DO NOT TOUCH THE PM5 monitor FOR ANY REASON. Ask the Lane Official to make any adjustments you need.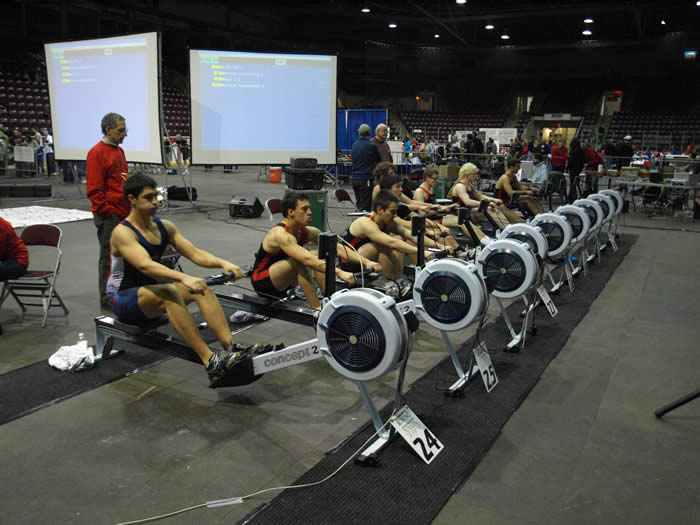 RACING:
Race Start Procedures: PM5 Monitors will display a countdown from 5-4-3-2-1 - GO. At the start of the countdown - all competitors should be sitting still and the flywheels not moving. The computer can detect the movement and will wait until all flywheels are stopped. On your own erg's PM5 Display, the start sequence will show 3 different screens "SIT READY, ATTENTION and then ROW. The computer will randomly vary the pause between Attention and ROW just like in a real rowing race.
If someone begins before the GO, the system will alert a "False Start" and the rower will be identified by lane number. In the first instance the competitor will be given a warning. In the event of two "False Starts" by the same competitor, that competitor may be disqualified.
If for some reason there is equipment breakdown or a signal connection failure identified in the first 250m of the race, the race will be stopped, the equipment repaired and the race will be restarted from the beginning. If equipment breaks after the 250m mark, the race will not be stopped.
If the boats on the race clock overhead don't move and the PM5 continues to pick up the erg score on its battery backup the race will continue uninterrupted. Competitors should be reminded to continue racing no matter what is displayed on the TV screens and only stop when they finish their distance or they are told by the lane official to stop.
If you require medical attention- please contact a race official. There are first aid services on-site.